Core Audio #1:


Freakish Confidence
It's the #1 indicator of whether a man will be successful with women or not, and second place isn't even close.
I'm talking about confidence, of course, and this groundbreaking audio program will empower you to an almost surreal level.
Discover the disarmingly simple steps to bold, bulletproof, "supernatural swagger" that have been hiding in plain sight all along…and from this day forward, take women's breath away in the best way possible.

The universally overlooked but unquestionable reason why most men fail with women

How to be assertive and when to be…even with women

Why shy guys actually have a distorted view of social interactions (this is shocking)

The golden secret of how men who are successful think about women versus those who aren't

How women put YOU on a pedestal…and you probably aren't even realizing it

Why women keep telling you to "just be yourself", and what they mean by it

The counter-intuitive secret to truly impressing women

Why you have NO competition for the highest-quality women (and you can forget anything having to do with evolutionary biology)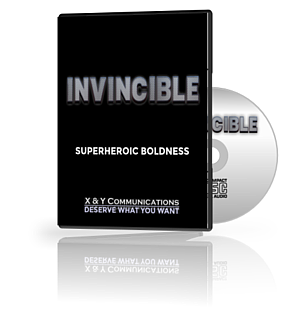 Core Audio #2:


Superheroic Boldness
This audio is where I reveal the shocking personal power mindset I developed a couple of years ago that has been transforming guys I've coached ever since.
This catalyst for almost instantaneous yet unwavering boldness releases you to stand up for yourself and live a blissful life with women forevermore. (Hint: Hollywood's leading men almost always portray this mindset, and women LOVE them for it.)
If you've ever found yourself believing that women have all the leverage and control in relationships, you're about to discover the indisputable counter-intelligence you've been looking for.

How to snap yourself out of believing women have all the power…all based on plain, practical truth

Why "Mr. Nice Guy" loses, and what to do instead to break that disastrous pattern and win

Most men completely misinterpret women's "tests". Here's how to know exactly what's going on, making sure you're never "rejected".

The #1 most devastating attraction killer that's prohibiting nearly all men from success with women

Bizarre, counter-intuitive ways women interpret masculine strength where many men see only weakness

The dangerous trap most men fall into which perpetuates the tragic cycle of habitual failure with women (don't be that guy)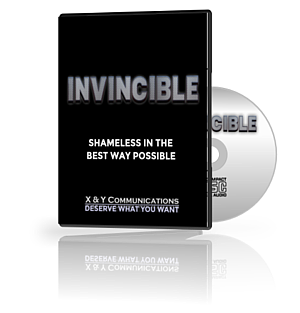 Core Audio #3:


Shameless In The Best Way Possible
Far too many guys are crippled by shame and guilt, even when they're generally considered to be "nice guys" by everyone they know.
What has led to this incongruent state of mind experienced by today's men? More importantly, what can be done to transform us from shameful to shamelessly successful?
Finally break the bondage of guilt, shame and even fear…standing tall and holding your head up high to the delight of highly-desirable women everywhere.

The weird reason why women crave the very same masculine traits you're probably suppressing

Angry women have gotten what they wanted from us, but they're still angry…and still not attracted. Here's what to do about it.

How to be a masculine leader and decision maker in a way that respects and honors women

What do women mean when they say they want a "vulnerable, sensitive man" who "listens"?

Why the "nice guy vs. bad boy" debate is inherently flawed…and what to do instead

How most men get "p-whipped"…and what will keep it from happening to you

How to lead your family without becoming a "Mr. Nice Guy" doormat

Proof positive that your masculine presence and power is still relevant in today's world

The sneaky ways post-modernity has conquered and pillaged our masculinity…even as we've willingly surrendered


The controversial but nearly foolproof way to find truly optimistic, generous women

Finally, a practical explanation of masculinity and femininity that makes perfect sense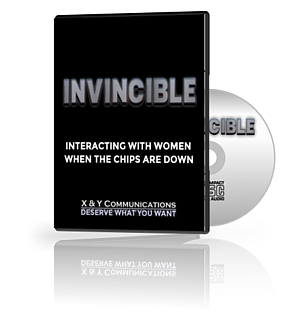 Core Audio #4:


Interacting With Women When The Chips Are Down
Simply meeting and attracting women is challenging enough. But what about when the stakes are high and the pressure is really on?
Well, after experiencing this action-packed audio you'll never again worry about saying the wrong thing…or nothing at all.
What's more, you'll discover exactly what to say and do in the most nerve-wracking situations with women that make most mere mortal men wilt.

Why men struggle to talk to women even after meeting them

How to make sure awkward silences never, ever happen

Finally, "two simple words to make women love you" that really work

Help for guys who believe they have to be smooth and cool at all times, or else she'll run away

The three crucial steps to creating true connection with a woman

Secrets to perfect first date conversation

What it means to be "connectable", and why it's so important to your success with women

Is it "love at first sight" or just lust? Probably neither.

How to put an end to "ghosting", "flaking" and "breadcrumbing" in one easy step

What to do when she starts asking "interview questions"

The devastating mistake mature men make when out with younger women

What to do when she asks, "Is this a date?"

The more beautiful a woman she is, the better this style of conversation works

When you hear "I have a boyfriend" it might actually be a good thing…here's why

Disarm her defensive "force shield" forever…and never see it again as long as you live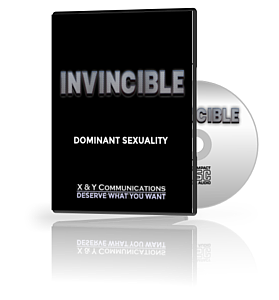 Core Audio #5:


Dominant Sexuality
With so much media attention given to "rape culture" and oppression of women in general, how is it that literotica books featuring sexually dominant men fly off the shelves?
In the wake of such confusing messages, can you really know what women want sexually? Well, this audio will empower you to see inside a woman's sexual imagination and be the bold, dominant man she craves in the bedroom…all with her full, informed consent.
Best of all, you'll remain 100% authentic, never having to resort to being some sort of "bad boy" or jerk.

A revolutionary way to frame "dominance" that thrills, intrigues and delights women to no end

The shocking hidden truth about women and sex that most men can't handle

How to flirt in a welcome yet dominant way to spark red-hot attraction

A bona fide game changer for men who believe women don't like sex

Brilliant ways to ramp up irresistibly tempting sexual tension at record speed

The surprising, ironic way an increasing number of women view sex nowadays (your jaw will hit the floor)

What to do when women shame your masculinity…and how to win them over

The "New Toy Syndrome" and how it ruthlessly destroys men's chances with women

Two all-important test questions to ask yourself when interacting with any woman you want to attract

Tangible, practical ways to bring out women's pent-up desire for dominant sexual playtime

How to completely disarm a woman's manipulative power to withhold sex from you

The "big four" is now the "big five"…and the newest element is mission critical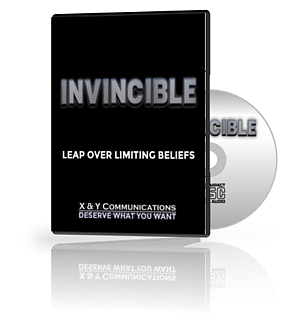 Core Audio #6:


Leap Over Limiting Beliefs
Why do we tend to be so hard on ourselves? And why does self-doubt stick to us so tenaciously…seeming virtually impossible to shake off?
Here's how to finally get over both internal and external bad programming, including how to crush the single most common (and insidious) limiting belief of all.

How to re-wire your mind so attractiveness becomes an unconscious habit

Three unfair advantages you have 100% control over and can easily cultivate

Why we have so many examples of how to attract women on TV and in movies, yet so few of us do so in real life

Decoding the often confusing ways masculinity and femininity ignite each other

The laughably simple way to be authentically interesting and exciting to women (you've probably been overthinking this)


How people trick themselves into letting go of their dreams…and how to avoid that trap yourself

Why it's so hard to find true happiness…and how to finally do so

How to make women laugh without being a comedian

The truth about attracting women that virtually all writers on masculinity fail to acknowledge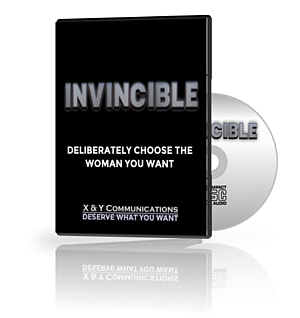 Core Audio #7:


Deliberately Choose The Woman You Want
As tragic as it sounds, the overwhelming majority of couples didn't really choose each other. They merely "settled".
Don't let that ever happen to you. Boldly identify and select exactly the woman you want the most…even as a multitude of other guys clamor over her and attempt to impress her.

The hands-down most effective way to get the most amazing, attractive woman you could possibly want…even when other men can't

How to assertively call out the woman you want…all the while respecting and honoring her and making her want you in return

Why certain women are irresistibly attractive to nearly all men…and how you can harness that kind of power for yourself

The curiously strange reason why even the most confirmed playboys usually end up with one great woman

The fatal mistake that a shocking number of men make that dooms their relationship from the very start

Exposed: The dating advice "system" actually encourages the very same character flaws that keep people single

Why you shouldn't panic if the two of you don't share "common interests"…and what to do about it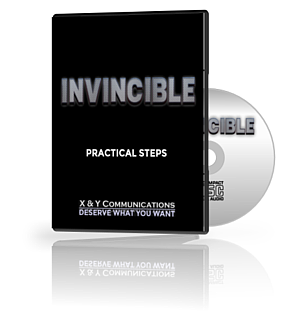 Core Audio #8:


Practical Steps
Mindset and strategy are both mission-critical to being an Invincible man. But how will you actually put it all into motion in the real world?
This audio program is jam-packed with real, actionable steps you can take to become a bolder, more powerful and more attractive man. Find your Invincible power and actively claim the transformation you want.

How to develop the consistent habit of boldly meeting and talking to women

5 fail-safe ways to intrigue and attract more women on a regular basis

How to go from only thinking you're motivated to real motivation

Why so many men who get all the books and programs still FAIL with women

Foolproof ways to make sure you're ready when you meet the greatest woman you've ever met

Practical, easy steps to looking your best when meeting women

Golden secrets to seeming far younger than you really are…even as the mature man women fantasize about

The surprising, counter-intuitive reason why the most masculine guys often have a harder time keeping girlfriends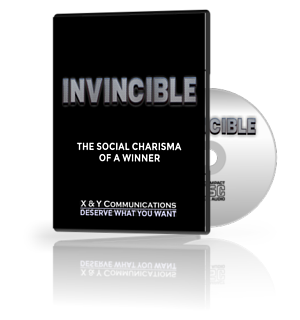 Core Audio #9:
The Social Charisma Of A Winner

Ever feel lost in a crowd? What if you could make a grand entrance to any social venue and be treated like a king? Better yet…what if you could do so in a completely subtle, under-the-radar kind of way that never appears arrogant or douchey?

All of the important aspects to owning the venue are covered in this practical audio program. Don't get left standing on the sidelines.

A spectacularly effective way to become the focal point of your entire social circle

How to handle conversations with women in particular when in a group setting

Smooth, calculating ways to deal with painful, awkward social situations

How exactly to walk into a party or other social venue

Where to position yourself relative to other people, and why

Psychological "seeds" you can plant that make people instinctively like you

Genius ways to make small talk…and then quickly get past it

Common questions to avoid asking in conversation (most people never figure this out on their own)

Simple conversation tips that make people crave more of you

Joining conversation with others, and what to do when you're intentionally distracted or interrupted

Never get socially dominated by a self-perceived "alpha male" ever again


When to arrive at parties or gatherings, and when to leave

The one social situation where you're virtually guaranteed to own the room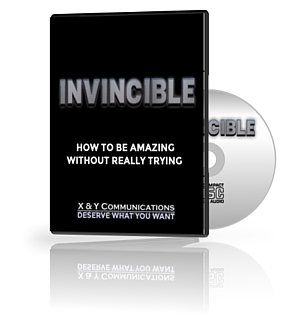 Core Audio #10:


How To Be Amazing Without Really Trying
The elusive holy grail of attraction is to have a woman gaze adoringly into your eyes with a bright, glowing smile and utter those two glorious words: "You're amazing!"
This audio might very well be the crown jewel of the Invincible program, not only because the secrets found within are such potent game-changers, but also because the steps require virtually zero effort. All it takes is a simple, conscious decision to become amazing to everyone you meet.

23 instant, practical ways to be a more impressive, amazing man…starting today

Harness your power to be more likable, attractive and even influential without learning any new skills or doing any "heavy lifting"

How to naturally (and effortlessly) combine elements in order to be exponentially more amazing

Revealed: The ironic way to feel more powerful and actually BE more powerful

Once and for all, what it means to "not take yourself so seriously", and why it's so important

The #1 way to suddenly get others to respect you…even if you've always been dismissed or even ridiculed

How to capture and personify the ultimate expression of the truly bold, confident, Invincible man